2019/20 Helensburgh Lions BUSHFIRE UPDATE (As at 27 Jan 2020)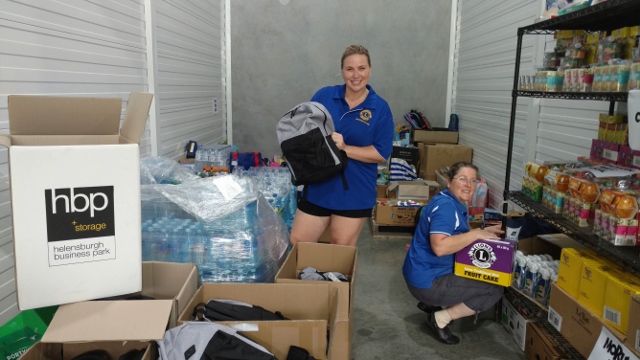 Progress...
In addition to Helensburgh Lions Club providing a direct donation to the Australian Lions Foundation that is providing support to fire victims in affected communities, Helensburgh Lions Club has been working hard through December and January, fundraising, to provide support in particular to our local RFS stations, Helensburgh, Otford, Stanwell Park and Darkes Forest.
Via discussions with these RFS stations we identified some of their immediate needs including provision of Intenet enabled tablets, Water, Lip Balm, Sunscreen, Eye drops, Snacks, etc. and have sourced most of these items either from businesses via donations or at reduced cost. The tablets have been ordered and will be funded out of the proceeds of our general fundraising. You may have seen us outside Coles fundraising (including a cake stall that was run in conjunction with our friends from the CWA.) Donation tins have also been established at various locations in the Helensburgh vicinity.
In addition Helensburgh Lions have put together support packs (including school bags for school children) for some badly fire affected communities and RFS units south. Lions Gina and Mel made a road trip south on Sunday 26th January to deliver these using a vehicle supplied by Helensburgh Business Park. Thank you Gina, Mel and HBP. If you would like more information about this please refer to our facebook page.
Helensburgh residents, and businesses have again shown their generosity.
We would like to thank the following businesses and individuals that have stepped up to support our efforts. (not in any particular order)
Helensburgh Business Park (For storage facilities to house donated goods & ute for transport)
Tradies Club (School Packs & Space to receive and sort School Packs)
Dymocks Children's Charity (Substantial $6000 donation of Children's Books)
Chemist Warehouse (Discounted Sunscreen, Eye Drops)
Coles (Collection point for donated goods and school packs)
Peabody Mining (substantial donation, sunscreen & water bottles)
Criniti's Fresh (Wire shelving for storage facility)
Gline Taxi Cabs - Greg O'Driscoll (help with moving donated shelving and items)
Le Tan (100 bottles of sunscreen)
Westside Petroleum - Shell Helensburgh (for fuel to transport donated goods south)
Westside Petroleum - Shell Helensburgh (for financial support with a BBQ at their premises)
CWA Stanwell Park (For supplying cakes for stall)
JB Distributers (Lollies and water)
Harcor (School bags)